Paige Nelson: Ultimate Frisbee Captain and Shell's Graphic Designer
Last month, Maryland's Club Ultimate captain, Paige Nelson, and her team, competed in the Colonial Division-I Conference Tournament. After a weekend of convincing victories over all seven other teams from the Maryland, Delaware, and D.C. area, Women's Ultimate Frisbee secured a spot in the Regional Tournament, where two weeks later they earned third place.
You may think of two people casually throwing a disc back and forth in a park when you hear "Ultimate Frisbee," but the sport is far from just a game of catch. In fact, UMD's Club Team practices five days a week for a total of eleven hours, and participates in a tournament almost every weekend during the spring semester. Paige has played on the team all four years she has attended Maryland and admits that her senior year as been as much Ultimate Frisbee as it has been computer science. "Ultimate Frisbee is so much of my free time because I love the sport and it has such a great community."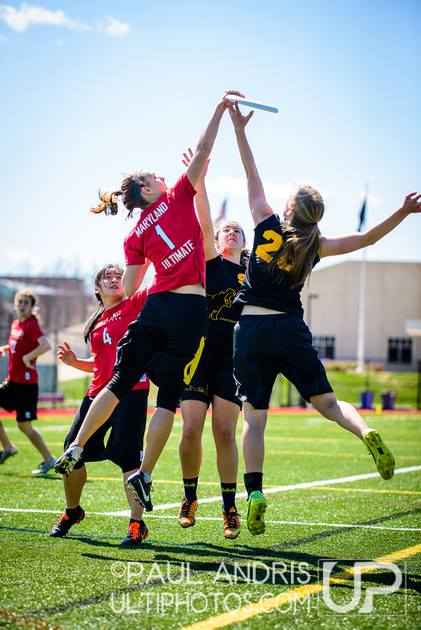 Although the competitiveness within Ultimate matches any other sport, the game-time dynamics are substantially different. Try to remember the last hockey, football, or basketball game you watched. There was probably at least one of the following: coaches yelling at their players, fans booing refs, or physical and verbal confrontations between athletes.
Unlike almost every sport at Maryland, Club Ultimate has no refs, so players make their own calls, which leads to an entirely different environment in comparison with other sports. Ultimate Frisbee players are undoubtedly fierce competitors, but they strive to maintain the spirit of the game and they aren't shy to appreciate impressive plays of opposing teams. Paige adds, "It's all about enjoying yourself, making good calls, and celebrating your team and the other team."
In between her commitment to Ultimate Frisbee and her academics, Paige developed an interest for graphic design and began experimenting with Adobe's Photoshop and Illustrator. Paige's advisor, Brandi Adams, noticed her new enthusiasm for computer-based artwork and asked her to make posters and other advertisements for miscellaneous departmental events. Her success with these smaller scale projects eventually led to her considerable involvement in the latest issue of Shell. Paige was hired to construct a cover to cover design for the magazine (not an easy task for someone who taught herself how to navigate the software she would need to implement the design). "I think the handful of art courses I took as electives helped and just practicing with [Photoshop and Illustrator] a lot on my own."
The past two summers, Paige has interned with Amazon in Seattle, Washington, where she worked on a team that provides the software development kit for the Amazon Fire Phone. Most recently, she was assigned her own project, which entailed creating a ratings and review tool for developers making apps for the Fire Phone. The tool allowed users to give feedback for the SDK and highlight what was helpful and what needed improvement. Paige is returning to Amazon after graduating, but this time she will be in their Virginia office, working for Amazon's Web Services, specifically with Amazon's Elastic Compute Cloud, a cloud utility that enables developers to rent computing resources needed to build and run their own applications.
Paige plans on joining an Ultimate Frisbee league in the area and hopes to continue working for the Shell magazine upon graduation. "If I can keep designing for the department, then I will get more experience and be able to work towards what I really want to be doing." Through her experience with programming mobile applications, Paige feels that from start to finish her favorite part is building an accessible and attractive interface. So sure enough, Paige's dream job integrates art with computer science, one that not only utilizes her abilities as a programmer, but her creativity and design talent as well.
The Department welcomes comments, suggestions and corrections.  Send email to editor [at] cs [dot] umd [dot] edu.