Alexander Levine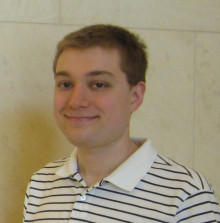 PhD Candidate
Email:
alevine0

[at]

cs.umd.edu
Interest Areas:
Biography:
DBLP: https://dblp.org/pid/51/6047-1.html
GitHub: https://github.com/alevine0/
Current Research Interests: 
Robust Machine Learning. I am interested in designing machine learning models that make decisions which are provably robust to bounded adversarial distortions of their inputs. In particular, I have been working on extending randomized smoothing techniques, which rely on making consensus decisions based on random perturbations of an input. My contributions have included proposing deterministic variants of the randomized smoothing method in order to achieve state-of-the-art certified robustness for the L1, patch, and poisoning threat models, as well as extending randomized smoothing to defend against the Wasserstein adversarial attacks and proposing a greatly-improved randomized smoothing technique for the sparse (L0) threat model.
Reinforcement Learning. I am exploring generalization in reinforcement learning, in order to develop scalable, deep methods for reinforcement learning which generalize to new, adversarial environments. 
Selected Publications:
"Improved, Deterministic Smoothing for L_1 Certified Robustness." Alexander Levine and Soheil Feizi. ICML 2021 (Long Talk). Paper. Code. 
Abstract: Randomized smoothing is a general technique for computing sample-dependent robustness guarantees against adversarial attacks for deep classifiers. Prior works on randomized smoothing against L_1 adversarial attacks use additive smoothing noise and provide probabilistic robustness guarantees. In this work, we propose a non-additive and deterministic smoothing method, Deterministic Smoothing with Splitting Noise (DSSN). To develop DSSN, we first develop SSN, a randomized method which involves generating each noisy smoothing sample by first randomly splitting the input space and then returning a representation of the center of the subdivision occupied by the input sample. In contrast to uniform additive smoothing, the SSN certification does not require the random noise components used to be independent. Thus, smoothing can be done effectively in just one dimension and can therefore be efficiently derandomized for quantized data (e.g., images). To the best of our knowledge, this is the first work to provide deterministic "randomized smoothing" for a norm-based adversarial threat model while allowing for an arbitrary classifier (i.e., a deep model) to be used as a base classifier and without requiring an exponential number of smoothing samples. On CIFAR-10 and ImageNet datasets, we provide substantially larger L_1 robustness certificates compared to prior works, establishing a new state-of-the-art. The determinism of our method also leads to significantly faster certificate computation.
"Deep Partition Aggregation: Provable Defense against General Poisoning Attacks." Alexander Levine and Soheil Feizi. ICLR 2021. MIT-IBM Watson AI Lab best paper award ($500 cash prize) at KDD 2020 Workshop on Adversarial Learning Methods for Machine Learning and Data Mining. Paper. Code. 
Abstract: Adversarial poisoning attacks distort training data in order to corrupt the test-time behavior of a classifier. A provable defense provides a certificate for each test sample, which is a lower bound on the magnitude of any adversarial distortion of the training set that can corrupt the test sample's classification. We propose two novel provable defenses against poisoning attacks: (i) Deep Partition Aggregation (DPA), a certified defense against a general poisoning threat model, defined as the insertion or deletion of a bounded number of samples to the training set --- by implication, this threat model also includes arbitrary distortions to a bounded number of images and/or labels; and (ii) Semi-Supervised DPA (SS-DPA), a certified defense against label-flipping poisoning attacks. DPA is an ensemble method where base models are trained on partitions of the training set determined by a hash function. DPA is related to both subset aggregation, a well-studied ensemble method in classical machine learning, as well as to randomized smoothing, a popular provable defense against evasion (inference) attacks. Our defense against label-flipping poison attacks, SS-DPA, uses a semi-supervised learning algorithm as its base classifier model: each base classifier is trained using the entire unlabeled training set in addition to the labels for a partition. SS-DPA significantly outperforms the existing certified defense for label-flipping attacks (Rosenfeld et al., 2020) on both MNIST and CIFAR-10: provably tolerating, for at least half of test images, over 600 label flips (vs. < 200 label flips) on MNIST and over 300 label flips (vs. 175 label flips) on CIFAR-10. Against general poisoning attacks where no prior certified defenses exists, DPA can certify ≥ 50% of test images against over 500 poison image insertions on MNIST, and nine insertions on CIFAR-10. These results establish new state-of-the-art provable defenses against general and label-flipping poison attacks.
"(De)Randomized Smoothing for Certifiable Defense against Patch Attacks." Alexander Levine and Soheil Feizi. NeurIPS 2020. Paper. Code. 
Abstract: Patch adversarial attacks on images, in which the attacker can distort pixels within a region of bounded size, are an important threat model since they provide a quantitative model for physical adversarial attacks. In this paper, we introduce a certifiable defense against patch attacks that guarantees for a given image and patch attack size, no patch adversarial examples exist. Our method is related to the broad class of randomized smoothing robustness schemes which provide high-confidence probabilistic robustness certificates. By exploiting the fact that patch attacks are more constrained than general sparse attacks, we derive meaningfully large robustness certificates against them. Additionally, in contrast to smoothing-based defenses against L_p and sparse attacks, our defense method against patch attacks is de-randomized, yielding improved, deterministic certificates. Compared to the existing patch certification method proposed by (Chiang et al., 2020), which relies on interval bound propagation, our method can be trained significantly faster, achieves high clean and certified robust accuracy on CIFAR-10, and provides certificates at ImageNet scale. For example, for a 5-by-5 patch attack on CIFAR-10, our method achieves up to around 57.6% certified accuracy (with a classifier with around 83.8% clean accuracy), compared to at most 30.3% certified accuracy for the existing method (with a classifier with around 47.8% clean accuracy). Our results effectively establish a new state-of-the-art of certifiable defense against patch attacks on CIFAR-10 and ImageNet.
"Wasserstein Smoothing: Certified Robustness against Wasserstein Adversarial Attacks." Alexander Levine and Soheil Feizi. AISTATS 2020. Paper. Code. 
Abstract: In the last couple of years, several adversarial attack methods based on different threat models have been proposed for the image classification problem. Most existing defenses consider additive threat models in which sample perturbations have bounded L_p norms. These defenses, however, can be vulnerable against adversarial attacks under non-additive threat models. An example of an attack method based on a non-additive threat model is the Wasserstein adversarial attack proposed by Wong et al. (2019), where the distance between an image and its adversarial example is determined by the Wasserstein metric ("earth-mover distance") between their normalized pixel intensities. Until now, there has been no certifiable defense against this type of attack. In this work, we propose the first defense with certified robustness against Wasserstein adversarial attacks using randomized smoothing. We develop this certificate by considering the space of possible flows between images, and representing this space such that Wasserstein distance between images is upper-bounded by L_1 distance in this flow-space. We can then apply existing randomized smoothing certificates for the L_1 metric. In MNIST and CIFAR-10 datasets, we find that our proposed defense is also practically effective, demonstrating significantly improved accuracy under Wasserstein adversarial attack compared to unprotected models.
"Robustness Certificates for Sparse Adversarial Attacks by Randomized Ablation." Alexander Levine and Soheil Feizi. AAAI 2020. Paper. Code. 
Abstract: Recently, techniques have been developed to provably guarantee the robustness of a classifier to adversarial perturbations of bounded L_1 and L_2 magnitudes by using randomized smoothing: the robust classification is a consensus of base classifications on randomly noised samples where the noise is additive. In this paper, we extend this technique to the L0 threat model. We propose an efficient and certifiably robust defense against sparse adversarial attacks by randomly ablating input features, rather than using additive noise. Experimentally, on MNIST, we can certify the classifications of over 50% of images to be robust to any distortion of at most 8 pixels. This is comparable to the observed empirical robustness of unprotected classifiers on MNIST to modern L_0 attacks, demonstrating the tightness of the proposed robustness certificate. We also evaluate our certificate on ImageNet and CIFAR-10. Our certificates represent an improvement on those provided in a concurrent work (Lee et al. 2019) which uses random noise rather than ablation (median certificates of 8 pixels versus 4 pixels on MNIST; 16 pixels versus 1 pixel on ImageNet.) Additionally, we empirically demonstrate that our classifier is highly robust to modern sparse adversarial attacks on MNIST. Our classifications are robust, in median, to adversarial perturbations of up to 31 pixels, compared to 22 pixels reported as the state-of-the-art defense, at the cost of a slight decrease (around 2.3%) in the classification accuracy.