Brandi Adams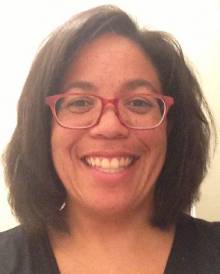 Associate Director of Communications
E-mail:
bkadams

[at]

cs.umd.edu
As the Associate Director of Communications, Brandi helps craft the Department's and Chair's public relations and marketing strategies for sharing news and information to internal and external audiences. She serves as the editor-in-chief, main writer, and photographer for the news sections of the Department's website and its magazine, shell. She manages and directs the Department's social media accounts (twitter (@umdcs and @UMDCompsci), Medium, Facebook, snapchat, and instagram), while also serving as the Department's main podcast writer and producer. She writes and edits external reports for the College and the University and for the Department's Alumni, External Relations and Development offices. Occassionally, she edits scientific papers.
She works with the Chair's Office, the Maryland Center for Women in Computing as well as the Undergraduate and Graduate Offices to support their communications needs.
Adams is a two-time a recipient of the Department Service Award in 2014 and 2018. In her former position as an Associate Director and Advisor for the Department's Undergraduate Program, she was the recipient of College of Computer Mathematical and Physical Sciences' Thelma M. Williams Outstanding Advisor of the Year in 2007 and 2011.
Department Social Media Accounts:
Twitter: @umdcs (department) https://twitter.com/umdcs
@umdcompsci (undergraduate) https://twitter.com/umdcompsci
Facebook: Undergraduates: https://www.facebook.com/UMDCompSci/
Brendan Iribe Center: https://www.facebook.com/IribeCenter/
Instagram: https://www.instagram.com/umdcs/
Snapchat: umdcs