Mohamed Gunady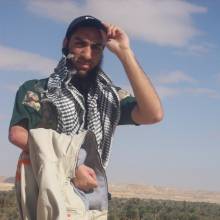 PhD Student
Email:
mgunady

[at]

cs.umd.edu
Biography:
I'm a first year PhD student in Computer Science Department, University of Maryland - College Park.
I've received my MSc degree in 2012 in Computer Science, Egypt-Japan University of Science and Technology (E-JUST), Egypt. I've done research on Machine Learning and Multi-Agent Systems for robots locomotion. In particular, how robots learn to play Hide-and-Seek. A novel learning model for multi-seekers to cooperate and divide the seeking territories, in a hierarchical learning model using Reinforcement Learning. The model is enhanced by means of state aggregation for space and time reduction (Curse of Dimensionality).
I've received my BSc degree in 2009 in Computer Engineering, Alexandria University, Egypt. I've done research on Parallel Programming using multi-core and many-core frameworks, in particular, using GPUs for general purpose computing (GPGPU) rather than graphics processing only. Data-parallelizable case-studies like Genetic Programming, Image Processing, large-scaled Sorting algorithms & Data Clustering algorithms were studied, modeled, and implemented on GPUs.
My research interests are Machine Learning, Artificial Intelligent, Bioinformatics, Pattern Recognition, Parallel Computing.
Experience with: C, Java, Objective-C, CUDA for GPUs,
Web development: HTML, XML, CSS, JavaScript / Ajax, JSON, JSP / JAVA Servlets, EJB, SWT, MySQL / SQLite, Ruby on Rails
Publications:
- Gunady, M.K., Gomaa, W., Ikuo Takeuchi, "Multi-Agent Task Division Learning in Hide-and-Seek Games", 15th AIMSA. Springer-Verlag LNCS, Volume 7557, pp 256-265 (2012)
- Gunady, M.K., Gomaa, W. "Reinforcement learning generalization using state aggregation with a maze-solving problem", Proceedings of Japan-Egypt Conference on Electronics, Communications and Computers (JEC-ECC), IEEE Xplore, pp. 157–162 (2012)