Ruofei Du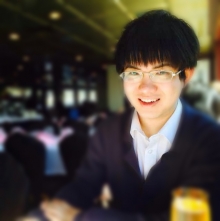 PhD Candidate
E-mail:
ruofei

[at]

cs.umd.edu
Location:
4406 A. V. Williams Building
Website:
Twitter:
Interest Areas:
Biography:
Welcome! I am a doctoral candidate at the Dept. of Computer Science, University of Maryland, College Park, as well as a research assistant advised by Prof. Varshney at the Augmentarium, UMIACS, working on all aspects of virtual and augmented environments: spanning 3D user interfaces for social media (Social Street View), 4D video based rendering (Montage4D and Video Fields), foveated rendering (KFR), gestures (VRSurus), and visualization. Previously, I interned at Microsoft Research on Holoportation (4D reconstruction). I also worked at Makeability Lab, HCIL advised by Prof. Jon Froehlich on tangible interfaces (AtmoSPHERE), real-time OCR (HandSight), and curb ramp recognition (Tohme). I am passionate about inventing future interactive technologies with computer graphics, 3D vision, and HCI. Feel free to visit my ShaderToy for fun demos!
News:
8/12/18: Attending ACM SIGGRAPH 2018 in Vancouver.
8/11/18: Social Street View alpha deployment at Geollery.com.
7/1/18: Our paper SketchyScene is accepted at ECCV 2018, with my code at Github.
5/16/18: Presenting Montage4D and Spherical Harmonics Saliency (Best Poster Award) and published Kernel Foveated Rendering at ACM SIGGRAPH Symposium on Interactive 3D Graphics 2018.
3/27/18: Presented Holoportation and Montage4D at Microsoft TechFest 2018!
5/05/17: Received the Outstanding Research Assistant Award 2017.
2/21/17: Invention of the Year Award Finalist.
7/24/16: Social Street View won the Best Paper Award at Web3D 2016! News
I obtained M.S. in 2015. Prior to UMD, I received my B.S. degree from ACM Class, Computer Science at Shanghai Jiao Tong University (SJTU). I served as the vice president of the ACM Class and a undergraduate research assistant in BCMI Lab. From Jul. 2012 to Feb. 2013, I worked as a full-time intern at Microsoft Research Asia working on 3DVAR: From 3D reconstruction To Virtual and Augmented Reality while serving as the Chief Technology Officer at the ARD Intern Community of Microsoft Asia-Pacific Research & Development Group.