Samuel Barham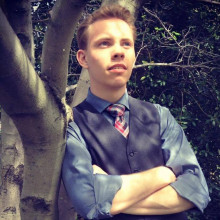 PhD Student
Email:
sbarham

[at]

cs.umd.edu
Website:
Google Scholar:
Blog:
Interest Areas:
Biography:
Samuel Barham (Sam for short) is a third-year PhD student at the University of Maryland, College Park. He has worked with a number of professors, including Don Perlis and Soheil Feizi, on problems ranging from grounding self-symbols in embodied AI/robotics to the definition of a unified cognitive architecture for AGI (artificial general intelligence).
His current work falls squarely in the field of adversarial examples for text, and their use in adversarial training for text classifiers and language models. Adversarial example generation in the text domain is largely an unsolved problem, unlike its sister problem in the image domain, where notions such as "small perturbations," "nearby points," and "adversarial example" are intuitive and relatively well-defined, and where recent work has provided strong theoretical guarantees on model robustness under a set of so-called certified defenses. With text, on the other hand, it's not always clear and straightforward how to define, much less to generate, adversarial examples, and relatively few theoretical guarantees on robustness exist as of yet.
This imbalance of progress could well use rectification, for at least two reasons: (1) without theoretically sound and well-understood defenses, many commonly used text classifiers -- from e-mail spam detectors to search filters -- stand in danger of automated attack from real adversaries; and (2) adversarial training using adversarially-generated examples has already been show to provide significant boosts in model performance (at least in the text domain), and it stands to reason that, the higher the quality and diversity of adversarial examples, the larger the performance gain that text models stand to reap.
Ultimately, however, Sam's deeper interests lie in the underdeveloped field of human-machine dialog where, perhaps at some point the future, neural dialogue models (NDMs) might enable humans to interact freely with computers using natural language.