Chapter 6: The Domain Catalog
6.1 -- Introduction: The Hermes domain catalog file (Hermes.dom) provides an abstract specification of integrated software and data accessible to Hermes mediators. Domain function declarations provide high-level specification of input, output, and processing, for each integrated software function. Internal software data types are also definable in the domain catalog.
NOTE: Types can also be declared at the beginning of the domain catalog.
6.2.1 -- The domain declaration: Domains generally correspond to programs (such as a relational database management system) or a sets of related functions (such as math functions). The declaration consists of the reserved word domain followed by arguments for name and a domain description as seen in Fig. 6-3.
6.2.2 -- The type declaration: Hermes provides global type declarations to simplify and clarify the use of data types in the domain catalog and mediators. The domain catalog can contain type declarations used by domain functions. A type can be declared anywhere in the domain catalog, but it must be declared before it is used either in a domain function declaration or in another type declaration. All types declared in the domain catalog are available to a mediator.

6.2.1.1 -- Fig. 6-5 shows the Date type declaration used in the date domain. Moreover, it demonstrates nested types via the Route type declaration. NOTE: Type number (see section 6.2.5) and type any (see section 6.2.6) cannot be used in a type declaration.
6.2.3 -- The domain function declaration: Hermes domains can include any number of domain functions. The function-name and descriptor-string tokens are self-explanatory. The term-types token, if any, represents the domain function input parameter names and types (See section 5.3 for syntax). Finally, the function-type token declares the defined function return type.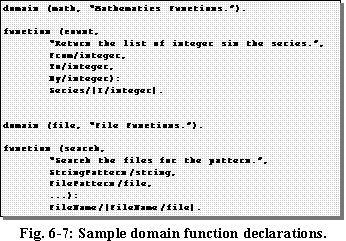 Executing the math domain count function, as defined in Fig. 6-7, with parameters (0, 10, 2) will cause Hermes to return the array [0 2 4 6 8 10].










6.2.4 -- Ellipse (. . .) usage: Hermes syntax supports the use of ellipses (. . .) after the final function input term to indicate a repeating input term. For example, to search for USA Today news summaries relating to Bill Clinton, published on April 18 or 19, 1994, use the file:search domain function (defined in Fig. 6-7 above). The ellipses following the final function definition input term allows the user to input multiple search paths (with standard wild-card characters). Thus, the query (see Fig. 6-8) searches two source directories and returns an array of file names which match the search string, but are found in either source directory (Fig. 6-9).
6.2.5 -- Domain function number type: The number type can only be used to declare domain function input and output types.

6.2.5.1 -- Input: Number type inputs provide domain call flexibility by allowing either integer or real values for numeric input.
6.2.5.2 -- Output: For functions with number output types, all inputs must be of the number type. If all inputs are integers, then the output is also an integer. For mixed integer and real, or straight real number inputs, the function returns a real value.
Using number input and output types, the math:add function, noted in Fig. 6-10, above can be used with any combination of constants, variables and functions evaluating to integers or reals. The first function call (see Fig. 6-11) returns an integer; the remaining four return real values.
6.2.6 -- Domain function any type: The any type provides domain function call flexibility by allowing any type of input data -- It can only be used for function input types. The file:print function defined in Fig. 6-12 accepts input values of any data type; Any combination of constants, variables and input functions are valid. The execution noted in Fig. 6-13, with inputs of two strings and an array of integers, would render the string "Printing messages is as easy as 1 2 3!" to system standard output. Note, Hermes also defines a file:format function which prints Hermes format characters along with the values.
Some domain functions, such as file:print defined in the example code, accept all Hermes data types for the any input type. Other domain functions, such as ingres:select, require that the any input type correspond to another input type. Hermes is not able to check these relationships between domain function input types, so the domain interface is responsible for checking the types at run time and returning an error message if a mismatch occurs. In the ingres:select function, listed in Fig. 6-14, the constant type specified by Value input must match the field type specified by Field input. Hermes will accept function calls such as those in Fig. 6-15 as it can not know that the entries "widget3",
or 3, must correspond to the table field type referenced by the name string "part". The ingres interface will return an error message, however, if the Value type does not match the Field type.



6.2.7 -- The domain data function: For databases structured as varying types of records or objects, the domain data function declares the output type of the domain function based on the input types. The variable token represents a domain function file input name. Domain catalog data functions work directly with mediator file data declarations (see section 7.2.3) to determine function output types based on input file types. This allows software such as Oracle, or O2, which processes dynamic queries to be integrated once -- New data files can then be used in a mediator simply by declaring the file structure and writing usage rules.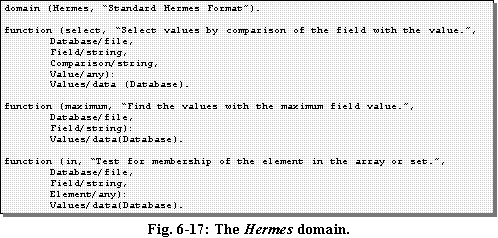 The Hermes domain, listed in Fig. 6-17, can process nested arrays, records and sets. In each case, the domain function returns a data set of the same types as the input database.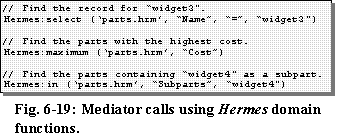 Some databases, such as the text domain in Fig. 6-21, return a fixed data type -- In this case there is no need for the data function or declaration.