Chapter 12: Mediator Application Examples.
12.1 -- The terrain reasoning mediator accesses an Ingres relational data base, a quadtree spatial data structure, and CAMMS (Condensed Army Map Mobility System) data of an area near Lauterbach, Germany through predicates (see Fig 12-1) to determine optimal paths between target sites and facilities.
An interesting terrain query involves an unusual supply item, a "secret_agent". Curious about this asset, we might query such "supply" locations through the site_facility_supply predicate as shown in Fig 12-2. The answer (see Fig 12-3) tells us that there are eight secret agents at site_1, coordinates (102,103).
Now perhaps we need to plot a route to a secret agent from, say coordinates (97,97). We can request this through the query listed in Fig. 12-4; the results appear in Fig. 12-5..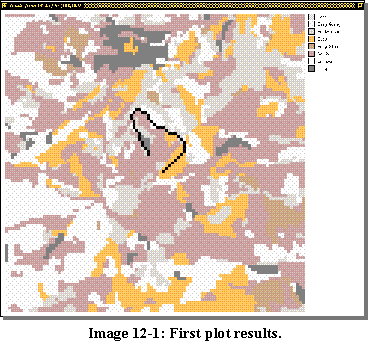 The result in Fig. 12-5 tells us that our position is 42 units from the agent with a projected path traversal cost of 84.7 (actual path coordinates appear within the square brackets -- the plot appears in Image 12-1).

In this case Hermes may not have rendered the best solution as we requested the best route to first facility it found with a secret agent listed in the supply. We may be able to do better by prompting Hermes to check all facilities with secret agents attached and return the one with the lowest route cost (see query in Fig 12-6, result in Fig 12-7, plot in image 12-2). This new solution tells us that we are 30 units distant from an agent with a path traversal cost of only 46.5.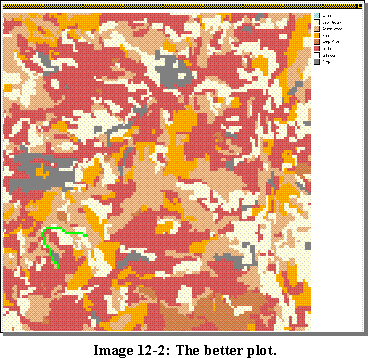 Perhaps we have a task for the agent -- We need him to go to a site where there is an F-14 fighter; We also want to know the agent's distance from the F-14. The query listed in Fig 12-8 will give us this information. The solution, listed in Fig 12-9, tells us that there is an F-14 fighter at the same location as the secret agent, distance zero.


---
---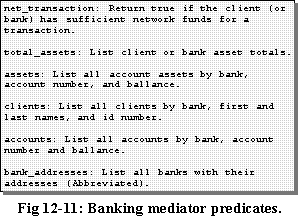 12.3 -- The banking mediator accesses over fifty dispersed databases using Oracle (pending license issues), Hermes, and relational flat-file stores, to simulate a network banking system.