---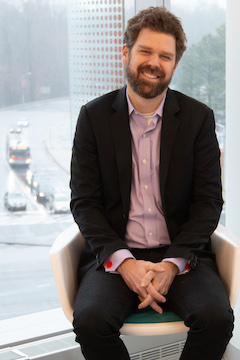 I work toward making the construction of reusable, trusted software components possible and effective. My research has spanned program analysis; semantics; verification and model-checking; security; logic; complexity; and algorithms.
Together with Mike Hicks, I direct the laboratory for Programming Languages at the University of Maryland (PLUM). Previously, I've worked with the Programming Research Laboratory (PRL) at Northeastern University.
I co-authored the book Realm of Racket with Matthias Felleisen and undergraduates from Northeastern University, which introduces programming interactive video games.
News
New draft: Size-Change Termination as a Contract.
New draft: Type-Level Computations for Ruby Libraries.
Gradual Liquid Type Inference won a Distinguished Paper award at OOPSLA 2018!
I'm serving on the OOPSLA 2019 Review Committee.
New paper: Gradual Liquid Type Inference to appear at OOPSLA'18 in Boston.
New paper: Theorem Proving for All to appear at Haskell 2018 in St. Louis, MO.
I served on the thesis committee Quentin Stiévenart's dissertation, Scalable Designs for Abstract Interpretation of Concurrent Programs: Application to Actors and Shared-Memory Multi-Threading.
I'm co-organizing PLMW @ ICFP, the Programming Languages Mentoring Workshop, co-located with ICFP 2018 in St. Louis, MO.
I'm serving on the Selection Committee for the Student Research Competition at both PLDI and ICFP 2018.
My post-doc, Thomas Gilray, will be joining the faculty of the Computer Science department at the University of Alabama at Birmingham.
New paper: Soft Contract Verification for Higher-order Stateful Programs published at POPL'18 in Los Angeles, USA.
New paper: Abstracting Definitional Interpreters published at ICFP'17 in Oxford, UK.
My PhD student, David Darais, will be joining the faculty of the Computer Science department at the University of Vermont in January 2018!
I'll be lecturing at the Oregon Programming Languages Summer School at the University of Oregon in late June, early July, 2017.
Niki Vazou and Thomas Gilray have joined the PLUM lab as the inaugural Basili Post-doctoral Fellows.
New paper: Higher-order symbolic execution for contract verification and refutation published in JFP in January.
New paper: A Vision for Online Verification-Validation published at GPCE'16 in November.
New paper: Constructive Galois Connections published at ICFP'16 in September.
New grant: Online Verification-Validation, funded by the National Science Foundation, Software and Hardware Foundations program. This collaborative project is with Matthew Hammer and Bor-Yuh (Evan) Chang at the University of Colorado at Boulder.
Trends in Functional Programming will be hosted at the University of Maryland, June 2016.
I'm attending the NII Shonan Village Seminar on Higher-Order Model Checking and the Dagstuhl Seminar on Language Based Verification Tools for Functional Programs, both in March.
New paper: Pushdown Control-Flow Analysis for Free published at POPL'16 in January.
New tutorial: An Introduction to Redex with Abstracting Abstract Machines presented at POPL'16 in January.