Daemon Dash brings Students, Alums, and Companies together for 24 hours of Coding
The Department of Computer Science hosted its third annual Daemon Dash Hackathon from September 13-14, 2014. Approximately 100 undergraduate students from a variety of majors including Computer Science, Engineering, Biology, and Math spent twenty-four hours building software projects around the theme of sustainability--echoing the University's commitment to a greener future.
The Daemon Dash Hackathon's opening ceremony on Saturday afternoon included an address from Oculus VR co-founder, Brendan Iribe, as well as visits from his co-founder Michael Antonov, and Professor Samir Khuller, The Elizabeth Iribe Chair for Computer Science. The previous day, the University announced Iribe's record $31 million donation to the University of Maryland to fund a new computer science building and scholarships. At the same time, the University announced that Antonov made a generous donation of $4 million for The Iribe Center and scholarships. Iribe's and Antonov's presence at the event energized and motivated participants, and reaffirmed Department-wide, College-wide, and University-wide commitments to innovation inside and outside of the classroom.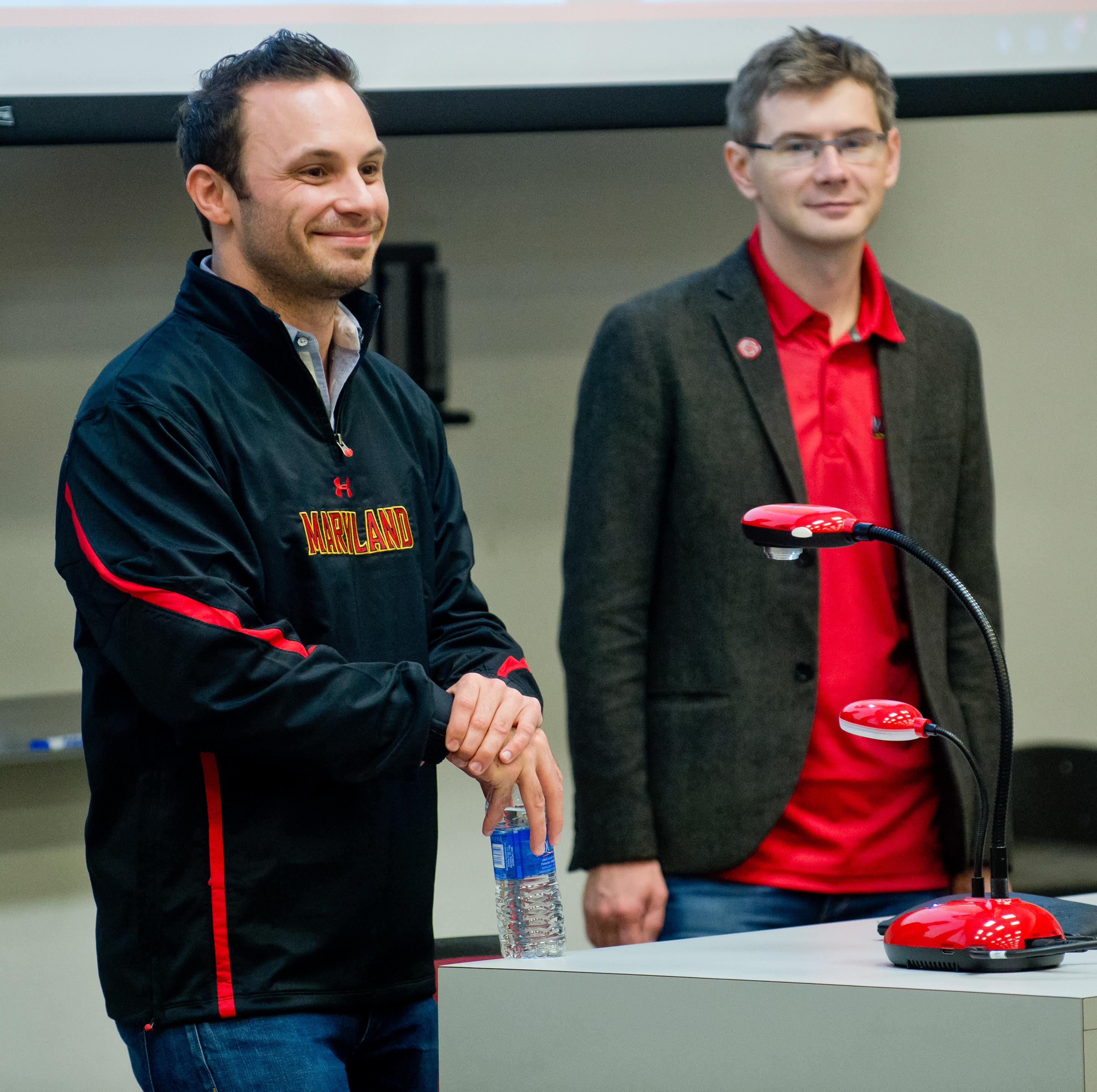 Sponsors for the Daemon Dash Hackathon included the following companies:
Capital One
Social Growth Technologies
DealerOn
Oculus VR
John Hopkins Applied Physics Laboratory
Microsoft
Geico
Susquehanna International Group
Easy Dynamics
Luminal
Bookholders
Raytheon BBN Technologies
Accenture
Google
Wayfair
Many sponsors sent engineers to mentor teams to help them with APIs, and developing and honing ideas. Dozens of representatives from industry also provided critical feedback about the scope of the projects and what tools and programming languages are necessary for a winning project.
Mentors from Bookholders loaned Raspberry Pis and other hardware to students, and mentors from JHU APL took continuous shifts to support students throughout the duration of the competition. Payam Azadi (CS '12), Partner and Senior Technologist for DealerOn, stayed well past midnight to encourage and help struggling students get their projects working more efficiently. Most participants stayed up all night coding, posting humorous messages on Twitter, and organizing presentations for judging that next morning.
Each team prepared a five minute pitch for a panel of judges while the audience looked on. The panel included Patrick Jenkins (CS and Math '06) CTO of Social Growth Technologies, Paul Miles from DealerOn, and Professor Alan Sussman, the CS Undergraduate Chair.
This year's winning team, No 9th Period, included first semester freshmen Vincent Hsiao, CS; Brendan Lawler, CS; Brian Lui, Biology; and Xiaoyu Yin, Freshman Connection. The team graduated together from Poolsville High School. Their project, a crowd-sourced, bike sharing mobile application was praised for its clever idea, complete code, and smart execution. Each member of the team won an Oculus DK2 Development Kit, a CS Gear Prize Packs, and bragging rights for the next four years.
All of the students' completed impressive work. The Daemon Dash Website has a full list of winners and sponsors.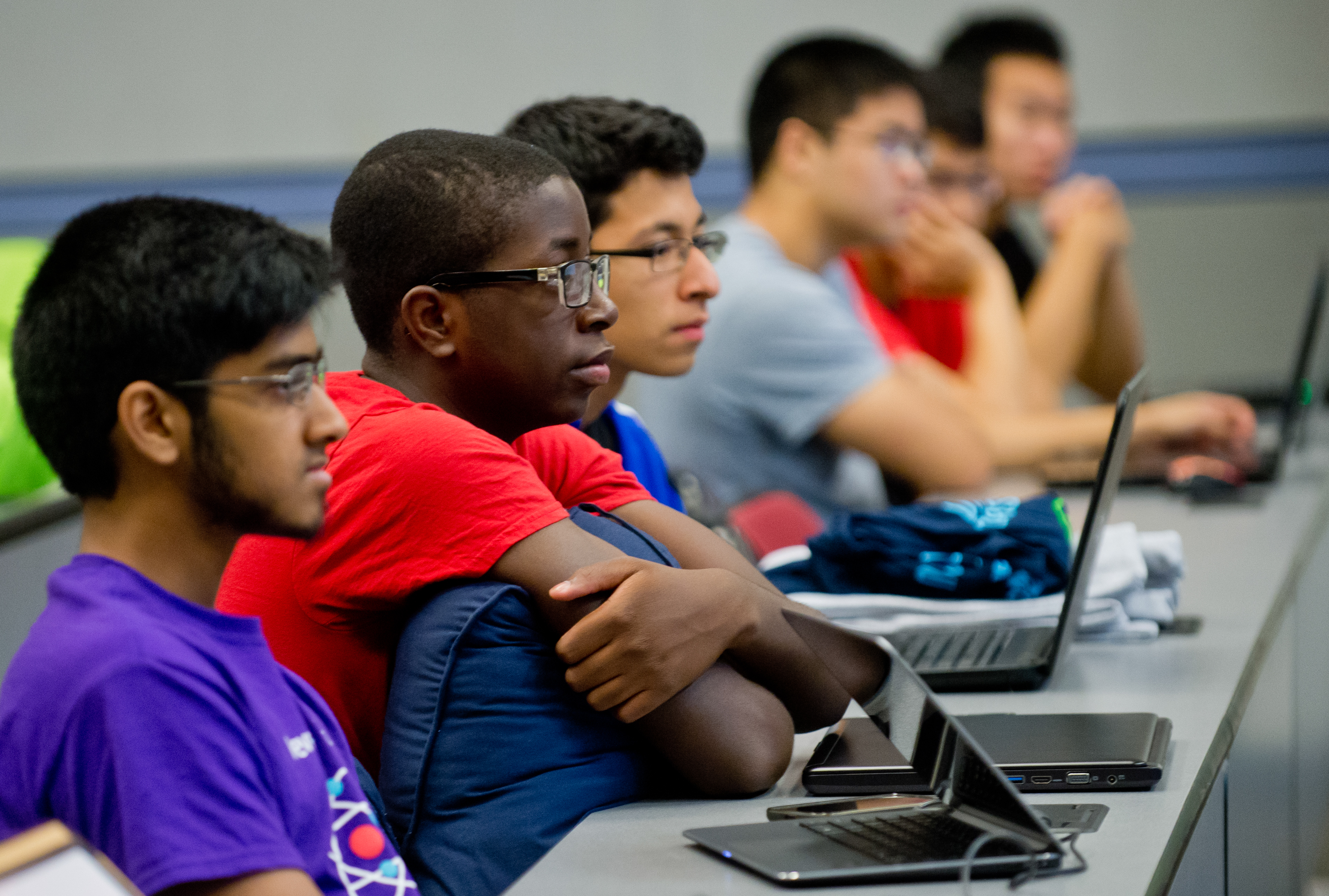 The Department welcomes comments, suggestions and corrections.  Send email to editor [-at-] cs [dot] umd [dot] edu.