UMD's Computer Science Majors Take Part in the Fall Career and Internship Fair
UMD Computer Science Students take part in the Fall 2023 Career and Internship Fair at The Hotel.
Bright minds and eager faces were aplenty at UMD's Department of Computer Science's Fall Career and Internship Fair held on September 19, 2023. While a lineup of leading companies marked their presence, it was undeniably the students who took center stage, radiating innovation, expertise and ambition.
Amidst the vibrant atmosphere of The Hotel situated across from the Brendan Iribe Center for Computer Science and Engineering, students confidently engaged with company booths, fostering connections and showcasing their impressive portfolios—a testament to the university's unwavering commitment to excellence and its thriving culture of collaboration.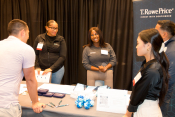 A total of 76 companies attended the event, with an impressive RSVP count of over 2,100 students. These companies presented internship opportunities and possible employment offers, providing students with diverse career pathways in the world of computer science.
Navigating the booths at the fair, freshman Esther Yu took her first steps into the realm of networking and corporate exploration. With optimism and a hint of apprehension, she embarked on a journey of discovery, exploring the myriad opportunities and connecting with industry giants.
"It was my first career fair, so I was a little anxious about it, but it wasn't as stressful as I thought it would be. Later on, I realized it was a comfortable environment," said Yu. "It was a positive experience, and I liked talking to many of the companies. Most of my conversations with the recruiters were meaningful and productive."
Throughout the event, students could be seen engaged in intense conversations, exchanging ideas, seeking advice and, in many cases, enlightening company representatives with their fresh perspectives. The synergy was encouraging, indicating mutual respect between industry veterans and prospective student professionals.
For Siddhant Mittal, a computer science and math major scheduled to graduate in May 2024, the Career Fair served as a crucial bridge connecting his academic achievements to the promising horizon of the tech world.
Approaching the event with a seasoned perspective, he seized the unique opportunity to interact with top tech employers outside the conventional virtual application process.
"The career fair was a good opportunity to meet some of the top tech employers in the world and talk to them face to face outside of the virtual application process," Mittal expressed. "Even though most job opportunities are attained through other conventional means, I had the privilege to connect with top tech giants, and such connections may bear results in the long term. I would say it was a productive experience in that sense."
The success of the Career Fair underscores the University of Maryland's unwavering commitment to offering its students opportunities to directly engage with industry leaders, fostering an environment of real-world learning and growth.
Story by Samuel Malede Zewdu, CS Communications
The Department welcomes comments, suggestions and corrections.  Send email to editor [-at-] cs [dot] umd [dot] edu.