Jeffrey K. Hollingsworth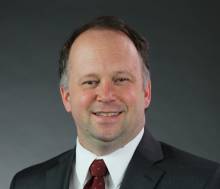 Professor
Vice President & CIO, University of MD
Email:
hollings
umd

[.dot.]

edu
Phone:
(301) 405-7700, (301) 405-2708
Website:
Google Scholar:
Education:
Ph.D., University of Wisconsin at Madison, 1994
Appointments:
CS, UMIACS, ECE
Interest Areas:
environments for parallel programming including performance monitoring and debugging, operating systems, computer networks, distributed systems
Biography
Jeff Hollingsworth is the Vice President of Information Technology and Chief Information Officer for the University of Maryland. He is also a Professor in the Computer Science Department. The division of IT provides services to the entire campus including computer networking, telephones, video conferencing, audio-visual, and computing. Dr. Hollingsworth is responsible for the university's overall technology environment, including critical IT services for research and teaching; administrative applications; information security and integrity; and broad technical support for faculty, staff and students.  He also leads campus-wide strategies and policies around campus use of technology.
He received his PhD and MS degrees in computer sciences from the University of Wisconsin and a B. S. in Electrical Engineering from the University of California at Berkeley. He has conducted research in the area of High Performance Computing (HPC). His work has been used by major federal laboratories and been incorporated into products of several leading technology companies. He is also the Immediate Past Chair of the Association for Computing Machinery's Special Interest Group on HPC.  He currently serves on the board of trustees of Internet2, and the higher education advisory boards of Cisco, Dell, and Splunk.
Honors and Awards
| Year | Type | Org. | Name |
| --- | --- | --- | --- |
| 2016 | Award | IBM | IBM Faculty Partnership Award |
| 2003 | Member | IEEE | IEEE Senior Member |
| 2001 | Award | IBM | IBM Faculty Partnership Award |
| 1997 | Award | NSF | NSF CAREER |