Joshua Davis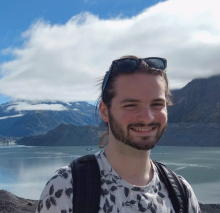 PhD Student
Website:
Google Scholar:
Twitter:
Interest Areas:
Biography:
Q: What made you choose UMD for graduate school?
Among the options I was considering, UMD had not only the best academic track record in the area I am interested in, high performance computing, but it also had the most encouraging and positive social environment. Also, the DC area is one of my favorite places in the world.
Q: Why did you choose computer science as your field of study?
I originally took an interest in computer science, like many, because I wanted to make video games. As I learned more about the field, I found that software development was an incredibly unique combination of rational and creative problem-solving skills, and the joy of writing programs kept me interested through high school. Today, I believe that computer science has the potential to radically improve human life across the globe, and I want to contribute to that improvement both out of intellectual passion, and to advocate for its benefits to be justly and fairly distributed to all member of our society.
Q: What are your plans post-graduation?
I plan to remain in academia after I complete my degree at Maryland, but I'm not sure where yet. I am also open to the possibility of finding opportunities to carry out my research interests in government or industry.
Q: What are your hobbies?
In no particular order, I enjoy board games, music, playing guitar, reading, and some video games.