Kwesi Cobbina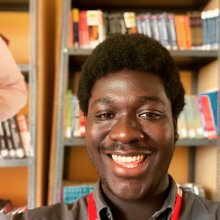 PhD Student
Email:
kcobbina

[at]

umd.edu
Twitter:
Interest Areas:
Biography:
Hello, I'm Kwesi from Ghana and my area of intetest is ML,NLP and Causality? .... Since I don't exactly know how to format this I'm going to go ahead and use the prompts sent by Tom.
What made you choose UMD for graduate school? -- Well aside from the great faculty and location, It would be the people. They seem genuinely nice and want you to succeed. I was in talk with a couple other schools and with UMD, I felt like they truly wanted me to succeed in this journey. I've heard a PhD could be really tough and scary and it made sense to do it with people who wanted and wished me success than to let my environment add to the stressors of the PhD.
Why did you choose computer science as your field of study? -- I was lucky enough to be introduced to CS earlier than the average Ghanaian in 2012. I was instantly drawn to it. And with my passion for learning and how costly engineering exploration is, it was the best option for me to explore peacefully. 
What are your plans post-graduation? -- Research and policy making
What are your hobbies? -- Cooking/baking without having to worry about doing the dishes, reading manga/manhua, teaching and designing STEM curricula for kids, watching Kdrama/Cdrama/Jdrama(historical/crime), feels like im missing something.... will update you later
What else should your fellow grad students know about you? -- Looking to make lots of friends right.... but I'm pretty shy so don't hesitate to approach me. I pretty big and tall but I'm really not that scary so don't be scared to approach me.... God knows it's happened a couple of times in the past.
Hmmm.... so it seems we've come to the end of the prompts. Send me any more prompts you will like answers to and I'll update this. Who's going to see this anyway... might have to come get rid of them at a later date if its inappropriate.... 
byeeee... and see you soon.