Soumik Mukhopadhyay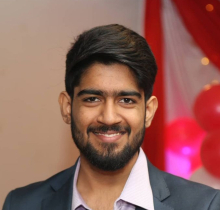 PhD Student
Email:
smukhopa

[at]

umd.edu
Biography:
Hi, I am Soumik. My pronouns are (Soumik, Soumik's, Soumik); just kidding, they are - (he, his, him).
Q. What made you choose UMD for graduate school? 
A. Only school in US where I got a PhD offer. Just kidding, I came here because of the rich heritage of Computer Vision at UMD. Wait what?! Prof. Chellappa is leaving and Prof. Davis is retiring? Prof. Shrivastava please reply my emails already.
Q. Why did you choose computer science as your field of study? 
A. So that computers can do my work. I'm too lazy.
Q. What are your plans post-graduation? 
A. No idea at all. To get a field's medal or something.
Q. What are your hobbies?
A. I like sketching and singing in my free time.
Q. What else should your fellow grad students know about you? 
A. It is okay to mispronounce my name. I don't get offened. (But if you are that meticulous, it is pronounced as either "saw-mik" or "show-mik")