William Gasarch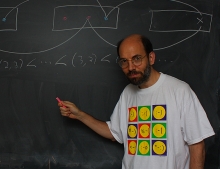 Professor
Email:
gasarch
cs

[.dot.]

umd

[.dot.]

edu
Website:
Wikipedia Bio:
Education:
Ph.D., Harvard University, 1985, Computer Science
B.S. SUNY at Stonybrook, 1980, Math and Applied Math
Research Areas:
Interest Areas:
complexity theory, concrete complexity theory, combinatorics
Biography
Dr. Gasarch got his BS in Math and Applied Math at SUNY Stonybrook in the Spring of 1980.
He then got a PhD from Harvard in Computer science in the Spring of 1985. He got a Job at Univ of MD as a professor in Fall of 1985 and has been there ever since. His main intersts have shifted from logic to combinatorics, but always with an eye towards applying these to computer science theory. He currently advised MANY High School Students, some of which have won awards.