Tianyi Zhou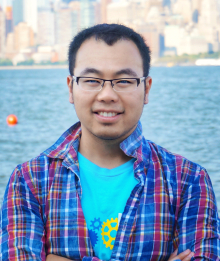 Assistant Professor
Email:
tianyi
umd

[.dot.]

edu
Website:
Google Scholar:
Education:
Ph.D., University of Washington, Seattle
Research Areas:
Interest Areas:
machine learning, natural language processing
Biography
Tianyi Zhou is a tenure-track assistant professor of Computer Science and UMIACS at University of Maryland, College Park. His research interests are in machine learning, optimization, and natural language processing. He has published ~90 papers at NeurIPS, ICML, ICLR, AISTATS, ACL, EMNLP, NAACL, COLING, CVPR, KDD, ICDM, AAAI, IJCAI, ISIT, Machine Learning (Springer), IEEE TIP/TNNLS/TKDE, etc. He is the recipient of the Best Student Paper Award at ICDM 2013 and the 2020 IEEE TCSC Most Influential Paper Award. He served as an SPC member or area chair in AAAI, IJCAI, KDD, WACV, etc. Tianyi was a visiting research scientist at Google and research intern at Microsoft Research Redmond and Yahoo! Labs. 
His recent works study how, why, and when to translate human learning strategies (e.g., curriculum, retention, sub-tasking, curiosity, exemplar learning, collaborative learning, etc.) to improve machine learning in the wild (e.g., with unlabeled, biased, noisy, redundant or distributed data, extrapolation to unseen tasks/environments). His works are built upon empirical/theoretical analysis to the learning dynamics of neural networks and tools from discrete and continuous optimization. His goal is to develop efficient, versatile, trustworthy, and environmentally-friendly hybrid-intelligence based on coevolution between human and machine.